Arnarnesstrýtur is only about 5 minutes on a zodiac away from the DiveCenter. They are full of diverse underwater animal life. Everything from small nudibrachs to huge wolfishes, even some humpbacks if you're very, very lucky. It almost takes two dives just to discover everything in this small area, 30×30 m, one whole dive can go in looking at the bigger things, like the fish and the chimney itself. Another dive can simply go in discovering the smaller creatures living in the deep and in every crack and crevice. We always find something new and exciting when we go there. It never looks the same. It also has vast seasonal changes and you can see some species come and go for the season and the fauna does the same.
We usually collect some of the hot water in a thermo in the end of the dive to give our divers hot chimney chocolate when you reach the surface. Maybe you can even try to feel the heat from the water from the chimney during the dive.
Note
The chimneys are incredibly delicate and challenging divesites so if we feel that our divers are not qualified to dive the second dive to Arnarnesstrýtan we'll tell you so and suggest another divesite, either another shore dive or a shallower and easier boat dive.
If you're more experienced you might want to check out The Strýtan Day Tour.
Duration and Time
The tour itself is around 4 – 6 hours but you're more than welcome to stay longer and enjoy the small fishing village of Hjalteyri and the scenery from our hot tub.
In the winter time we dive according to the daylight and the weather.
Weather and Conditions
It's said that Icelandic weather changes every 5 minutes, that's maybe not the exact case but it can change quite rapidly and the same goes with water conditions. Be aware that we can change our tours on a short notice to ensure your safety and so you have the best experience as possible. We will stay in close contact with you and switch dates if that is possible.
It's good to bring clothes for every condition, the weather can be great in front of our divecenter, almost boiling, or it can be windy and quite cold.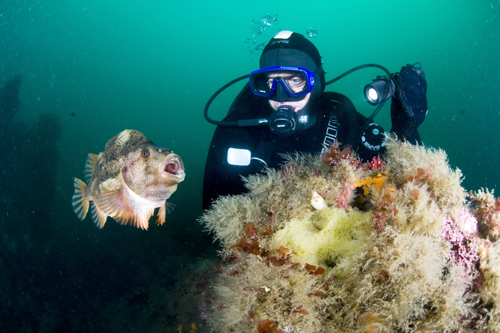 Book via email: strytan@strytan.is
Price: 40.000,- ISK per person.
Availability: All year, depending on weather.
Included
All transport.
Experienced guide.
All equipment.
Please Bring
Certification cards, minimum of an Open Water Diver.
Log book.
Swimsuit for the hot tub.
Clothes for all weather conditions.
Minimum Requirements
Open Water Diver Certification.

Advance certificate

Dry suit certificate min 15 dives

17 years old.
Ratio
Our ratio for this tour is 1:2 so divers can get the attention that they need.