Strýtan Dive Center welcomes you to our headquarters in Hjalteyri, on the west bank of Eyjafjordur bay in North Iceland.
Strýtan Dive Center was founded in 2010 when Erlendur Bogason decided to start offering dives to the unique underwater hydrothermal chimneys in Eyjafjörður. Those divesites were the perfect opportunity to start a company like Strýtan and since then it has been constantly growing and trying to offer experiences for everyone that enjoy the water.
We at Strýtan try to make sure that everyone can find something to their liking along with:
Providing personal and a unique diving experience.
Keep diving groups small enough to give each diver an enjoyable diving experience and providing knowledgable guides.
Caring for nature, understanding it and educate people about the local marine life.
Over the years we've aimed to expand the experiences we can offer people. We've added diving sites to our list along with PADI courses and whalewatching.
About Erlendur Bogason
Erlendur works as a commercial diver specializing in Research Diving and underwater photography. Since 2010 he has been operating diving trips with tourists at the chimney areas, Ásbyrgi canyon, Grímsey Island as well as teaching diving as a PADI instructor. He also serves on the committee for the protection of the submarine hydrothermal chimneys in Eyjafjörður, North Iceland. Erlendur started his diving career diving for sea urchins in 1993. Three years later took a job at the Marine Research Institute of Iceland, where he learned underwater research from his mentor Karl Gunnarsson, marine biologist. Together Erlendur and Karl did underwater research by the volcanic island Surtsey where they dove by the new lava in Westman Islands (Vestmannaeyjar). Among other things they also did research on sea urchins (Strongilocentrotus droebachiensis) in Eyjafjörður, the ocean quahog (Arctica Islandica) in Þistilfjörður.
History of Strýtan Dive Center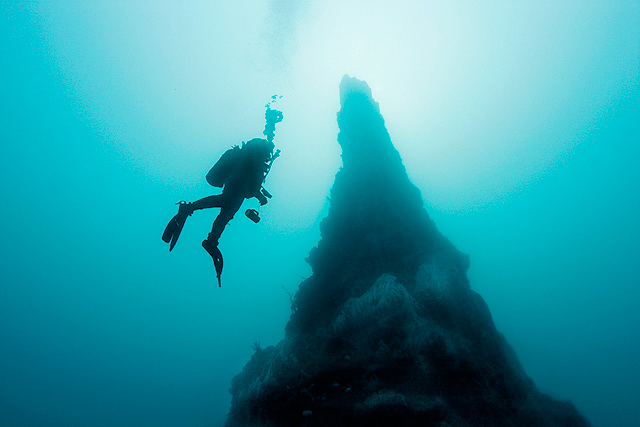 In 1997 Erlendur became a certified commercial diver and consequently discovered, and was the first to dive down to the worlds largest geothermal underwater chimney in shallow water, situated just offshore from Ystavík bay in Eyjafjörður. In 2001 the hydrothermal area became the first underwater protected area in Iceland. The same year he dove down to wrecks located at the harbor of Akureyri ( a German bark Standard built in 1874), in Krossanes and Hrísey.
In 2004 a new hydrothermal chimney area was discovered in shallow waters of Eyjafjörður and were named Arnarnesstrytur. Since this discovery Erlendur has worked with the University of Akureyri and the Icelandic Geosurvey on researching Arnarnesstrytur. In 2007 the Icelandic minister of environment designated Arnarnesstrytur a protected area and Erlendur received a special recognition for his work to having the area protected.
---
What are people saying about Erlendur Bogason – Strytan Divecenter:
"Best place and best rural divecenter in Iceland"……
"Unlike anything you will be able to experience first hand elsewhere"…….
"Wonderful diving the amazing volcanic cones at Strýtan with the man who discovered them!"……
Read what people are saying about Strytan Divecenter on TripAdvisor
---
Here we are, at GPS location: N 65°51.055′–W 18°11.583′