Your PADI instructor/PADI köfunarkennarinn: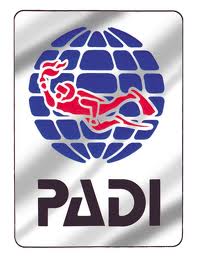 Your PADI Instructor, Erlendur Bogason, can teach all PADI courses in English and Scandinavian. He is working as a commercial diver and has been working under water since 1992. He has a lot of experience with dry suit diving, underwater research, digital video and still photography. He is educated as a special search and recovery diver.

Kennari ykkar á þessum námskeiðum hefur starfað sem atvinnukafari og stundað köfun frá 1992. Á þessum árum hefur hann eingöngu kafað í þurrbúning við neðansjávarrannsóknir, video og ljósmyndatökur. Einnig hefur hann lært sérstaklega leitar og björgunarköfun.
PADI eLearning
Why not take some PADI courses in Iceland on your holiday? With PADI eLearning you will be able to do the theory part of the course online at home and in water part in Iceland.
Með PADI eLearning getur þú tekið allan bóklega hlutan af köfunarnáminu á netinu og síðan komið og kafað hjá okkur.
Dry suit diver / Köfun í þurrbúningi
If you are a certified diver and only dived in wet suit, you have to take this course before diving Strytan.
Sérstaklega ætlað fyrir þá sem hafa lært að kafa erlendis í blautbúningi. Byrjað er á að fara yfir köfunarbúnaðinn og kynna fyrir nemandanum hvernig þurrbúningur virkar. Farið er í köfun með leiðbeinanda þar sem gerðar eru köfunaræfingar.
Price / Verð 25.000,- ISK
Scuba Diving
Íslenska: Köfun fyrir byrjendur þar sem farið er yfir helstu þætti köfunar. Kafað er við gömlu bryggjuna á Hjalteyri þar sem lífríkið í sjónum er skoðað. Fyrir þá sem vilja læra meira í köfun og taka Open Water námskeiðið þá telst þessi köfun sem hluti af því námskeiði og gengur gjaldið upp í open water námskeiðið.
Verð 25.000,-kr
Take your first steps into the diving world with us and discover the deep blue. The Open Water Certificate is an international certification that lasts you a lifetime and qualifes you to go down to 18 m with a buddy. This course takes around 3 days to complete and includes 4 ocean dives, where we take you to a different site everytime, and confined water training. Get to know a whole different world with our great instructors and divemasters that put their pride in making the experience as fantastic as possible.
Price 105.000 ISK
PADI Advanced Open Water Diver Course
Íslenska: Á þessu námskeiði eru fimm kafanir. Þú lærir að kafa við viðkvæmt friðað svæði eins og strýturnar. Kynnist flakaköfun þegar kafað er á skútuna Standard ásamt því að farið er í næturköfun. Þú lærir að kafa að dýpra, þetta námskeið veitir alþjóðleg PADI köfunarréttindi niður á 30 metra dýpi.
Verð 75.000,-kr
PADI Rescue Diver Course
Íslenska: Þetta námskeið er ætlað köfurum sem hafa nú þegar nokkra köfunarreynslu ásamt Advanded Open Water réttindum. Á þessu námskeiði lærið þið hvernig á að bregðast við hinum ýmsu aðstæðum sem geta komið uppá við köfun. Þið munuð læra að koma kafara til aðstoðar bæði neðansjávar og í yfirborðinu. Einnig verður farið yfir lífgunaræfingar.
Verð 75.000,-kr
PADI Divemaster Program
Íslenska: Boðið er upp á PADI Divemaster starfsnám sem tekur nokkra mánuði og á þeim tíma vinnur nemandinn náið með kennara sínum. Námið gefur þér réttindi til að aðstoða kennara við kennslu köfunarnema, ásamt réttindum til að vera leiðsögumaður fyrir kafara. Að loknu divemaster námi getur nemandinn tekið réttindi sem PADI instructor.
Specialty Courses
Digital underwater photographer/Lærið að taka myndir neðansjávar
Learn to take still pictures and videos underwater.
Lærið að taka myndir neðansjávar ljósmyndir og vídeó.

Price / Verð 25.000,- ISK
Deep diver / Djúp köfun
In this course we learn diving down to 40m and you get a PADI certificate to 40m depth.
Á þessu námskeiði lærum við að kafa dýpra og er kafað niður á 40m dýpi. Eftir námskeiðið fær nemandinn PADI skýrteini sem DEEP DIVER.
Price / Verð 25.000,- ISK
Underwater naturalist/Lærið að þekkja lífverur hafsins
You will dive in the only underwater protected area in Iceland you can learn more about the story of the strytan and the unique underwater animal life of Strytan.
Strýturnar í Eyjafirði eru einu friðuðu náttúruminjar í sjó við Ísland. Fyrir köfun er kynning á neðansjávaralífverunum á og við Strýturnar.
Price / Verð 25.000,- ISK
Search and recovery diver / Leitar og björgur köfun
Your PADI instructor, Erlendur Bogason, is also specially trained as a search and recovery diver with the Fire Department, Special Police Force and the Coast Guard in Iceland. You will learn different search techniques and recovery.
Í kennslunni er notast við kennslugögn frá PADI einnig er nemandanum kynnt leitar og björgunarköfun eins og kennt er á námskeiði hjá slökkviliðinu í Reykjavík ásamt eigin reynslu kennarans.
Price / Verð 35.000,- ISK
PADIdive instructor / PADI

köfunarkennari
Erlendur Bogason Commercial diver and PADI dive instructor.
Mobile/GSM -3548622949 E-mail: erlendur(hjá)saevor.is