By contract with The Environmental Agency of Iceland and Strytan Divecenter and Erlendur Bogason have been designated the official protectors of Strytan and Arnarnesstrytan, located at the bottom of Eyjafjordur. These natural wonders are the first protected underwater areas in Iceland. To receive permission to dive without a guide in these areas you must first contact Erlendur Bogason to learn about the area and how to interact with the extraordinary and rare underwater wonders that the area has to offer.
Strytan Divecenter is located 22. Km north of Akureyri, in a small fishing village called Hjalteyri (N 65°51.055′– W 18°11.583′). From the harbor of Hjalteyri it only takes about 5-10 min sailing to our main dive sites Strytan and Arnarnesstrytan. We offer a variety of one-day diving tours as well as our exceptional three and five day diving tours. In these tours you will see Strytan, Arnarnesstrytan, The Northern Water Circle (Nesgjá) and some of Erlendur Bogason's favorite diving locations. If needed, we can also provide assistance in finding you suitable accommodation in the area.
See what we can offer in our special personalized trips designed just for you
Strytan is the only geothermal cone found in the world shallow enough for scuba diving. Located in Eyjafjörður, Strytan rises from the to the hight of about 55 meters. Warm fresh water (72°c) flows out of the cone at arate of around 100 liters per second. According to academic staff at the University of Akureyri the water streaming from the cone is 1100 years old.
Availability: All year.
Dive skills: Advanced scuba diver. Experienced dry suit diver. Boat dive.
Duration: 4-6 hours.
Minimum: 1 diver.
Click here to see info and pricing
– Home of Stephanie, the wolffish.
Arnarnesstrytur is a group of small cones rising from the seafloor at depth from 18-46 meters. The area is 400 meters wide and 1000 meters long and has been classified as protected since 2007. We usually dive by the shallowest cone at 18 meters depth. There you can see 78°c warm fresh water streaming from the cone.
Using a thermo we will collect hot water from the cone and use it to make hot cocoa on the boat after the dive. This 1100-year-old water tastes a little sweet. During spring time (end of may to beginning of June) we also collect eggs from the Guillemot bird and cook it by the cone. In this dive you we usually see much
animal life native to the Arctic Circle. During this dive we also collect some Artica Islandica shells and feed them to the cod and wolffish.
Availability: All year.
Dive skills: Open water diver. Possible to take a dry suit course with us if needed. Boat dive.
Duration: 4-6 hours.
Minimum: 1 diver
Click here to see info and pricing
Nesgjá – Litla Á – Dettifoss – Lake Mývatn – Godafoss
If you like to dive, snorkel, or just like water and nature, this tour is for you.
The first stop will be in the newly discovered crack Nesgjá and Lake Lón, where you can dive, snorkel, or or just enjoy the beautiful natural surroundings. Next we will make a stop at one of Erlendur's favorite places, the 17°C warm river Litla Á. There you can feel the warm water flowing from the ground like a small Geysir. This river is also known for being inhabited by large trouts. On the third stop we visit Dettifoss, a 100m wide waterfall with a drop of 44m into the canyon Jökulsárgljúfur. Dettifoss is the largest waterfall in Europe in terms of volume discharge. We will also stop to see the mud Geysir's at Leirhnjúkar
and Námuskarð. We will make a stop at Lake Mývatn where you can bathe in the geothermal spa or in one of the warm natural springs. On our way back we will stop at the waterfall Goðafoss, and at our final stop in Akureyri we will invite you to join us for an Icelandic meal.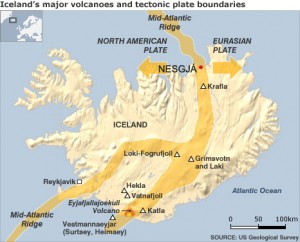 We also offer a short dive and snorkel tour to Nesjá and Litla Á leaving from Akureyri.
Availability: All year.
Dive skills: Open water or snorkel.
Duration: 10-14 hours the longer tours, we also have shorter similar tours.
Included: Everything.
Minimum: 2 participants.
Click here to see info and pricing
The arctic circle cross this beautiful small fishing island. So when you are diving you can dive under the arctic circle. In the sea around Grimsey and in the cliffs are millions of  sea birds. So when you are diving the Puffins and the Guillemot birds come to you to dive to your dive bubbles. In some dives I have seen around 100 birds at the same time diving, the birds fly in the water using the wings to for swimming. Usually the could arctic sea is blue and clear and when diving you will see Cod, flat fish like Plaice and big steams of Pollock. This is the only place where I have been diving with Guillemots birds and Puffins in visibility over 20 meters. Because the ferry only goes three times every week to Grimsey we have decided to have four dive tours to Grimsey this year.  By special request we can plan a Grimsey tour.
Availability: April-July depending of the weather
Dive skills: Open water diver
Click here to see info and pricing

In the harbor almost in the center of Akureyri is this old 60 meters long and 11 meters wide ship Standard built in the USA in the year 1874. It sank in the beginning of the world war I but at that time it was owned by German fishing company. Usually its lot of fish around Standard and in one dive I have seen elleven tipes of fish.
Availability: All year
Dive skills: Open water diver
Duration: 1-2 hours
Included: All dive gear
Click here to see info and pricing
Every year, thousands tons of cod come to spawn at shallow depth 4-20 meters in Thistilfjord (Þistilfjörður) northern Iceland. Sinch 1996 Erlendur Bogason the owner of Strytan Divecenter has spent most of April in Thistilfjord diving, doing research on cod. Erlendur has been studying cod and his behavior in the nature. He has also studied how the cod act and behave around fishing gear. In this dive tour we will focus on the Cod but we will also dive at Strytan, Arnarnesstrytan, Nesgjá and Litla Á.
This is on of the few photos that exist in the world showing cod spawning in nature, female on top.
Availability: March 26-April 24
Dive skills: Advanced scuba diver. Experienced dry suit diver. Boat dive.