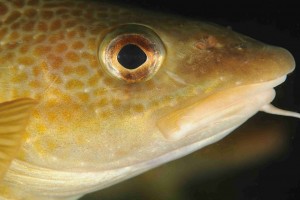 There are almost 20 years since Erlendur heard the two local fishermen in Þórshofn arguing about if there was more cod at Laxártangi where one of them was fishing or at Kóngslækur where the other one was fishing. To find out they asked Erlendur to dive and photograph the cod and find out on what place there would be more cod. +Erlendur still remembers these dives at 9 meters depth very well as he could see hundred or thousand tons of cod. The cod comes every year to the same place to spawn at the depth of 4-20 meters. This is the only place known today where cod comes in big steams to shallow depth to spawn like it did many places some decades ago.
The small fishing village Þórshöfn is 2.5 hour drive away from Akureyri on the way we will pass Nesgá, Lón and Litla Á where we will make a stop and dive. We will stay 2-3 days at Þórshöfn and dive 2-3 dives pr. day. Most of the dives are at the depth of 9-14 meters. On the way back to Akureyri we will stop at Mývatn and Goðafoss. Having come all this way up north you also sort of have to dive Strytan and Arnarnesstrytan.
Availability: March 26 – April 24
Dive skills: Advanced scuba diver. Experienced dry suit diver. Note: Boat dive.
In this tour you will dive with Erlendur Bogason the owner of Strytan Divecenter, he is the diver that know this area best. Contact us and let us plan your dive trip and make you an offer.