By contract with The Environmental Agency of Iceland and Strytan Divecenter and Erlendur Bogason have been designated the official protectors of Strytan and Arnarnesstrytan, located at the bottom of Eyjafjordur. These natural wonders are the first protected underwater areas in Iceland. To receive permission to dive without a guide in these areas you must first contact Erlendur Bogason to learn about the area and how to interact with the extraordinary and rare underwater wonders that the area has to offer.
Learn how to dive in the "coolest" waters
We offer a variety of scuba diving courses, everything from beginners courses up to Dive Masters internships. So far we have 9 different specialties and we hope that with the years they'll be more. We also offer Discover Scuba Diving so even if you have never tried diving before you can start here in Iceland! We have amazing facilities to practice diving, good classroom, amazing shallow training dive sites and we also work with the pool in Akureyri, Sundlaug Akureyrar to do all our pool training.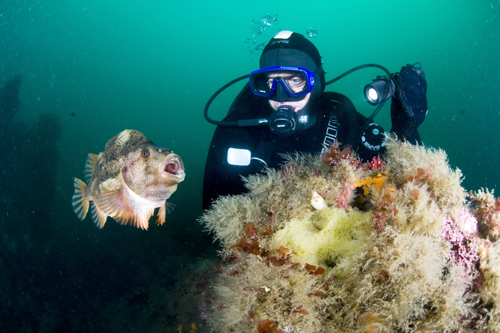 Click here to see the courses we have on offer
---
Customly made for you and your interests!
We put our pride in giving you the best diving experience, whether it's diving or our personal service. We have multiple tours and dive spots that we can offer you and every single one of them has a special attraction! We can create special diving tours from one day to a week and it'll be completely tailored to your needs and interests.
We also have seasonal dive tours, like the cod spawning and the puffin islands. Check out our dive spots and tours and see what fits your interests the best! We'll do our best to give you the experience of a lifetime!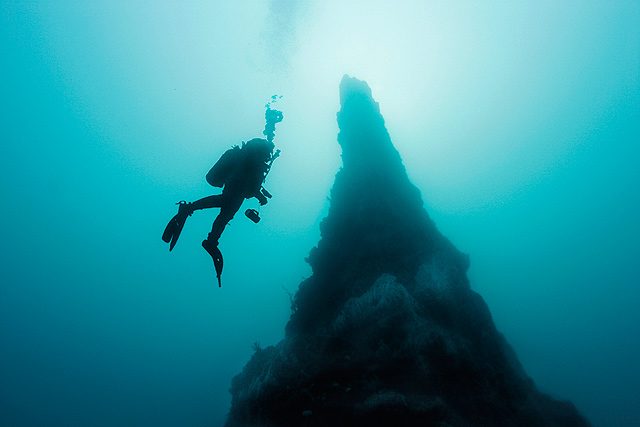 See what we can offer in our special personalized trips designed just for you
---
The beginning of life on earth?
Strýtan is the only hydrothermal chimney, yet, found in the world that is shallow enough to scuba dive down to!It's located in the north of Iceland, in a small fjord called Eyjafjörður. Strýtan rises from 65 m and up to 15 m, which makes it a huge structure of 50 m. It's estimated that around 100 L of 72°C warm fresh water comes from the chimney every second. According to the academic at the University of Akureyri the water coming from the chimney is 11.000 years old.
Click here to see info and pricing
---
Home of Stephanie, the wolffish.
Arnarnesstrýtur is a small group of small chimneys that rise from 22 m to 15 m. It's in a protected area that is 400 m wide and 1000 m long. That area has been protected since 2007. The water from the chimneys is 78°C and is it the only place where you can take off your glove and feel the warmth of the water. Often we also bring a thermo with us so you can taste the water that has the PH of 10. We make hot cocoa from the water that is a little sweet and the small amount of sea makes the hot cocoa the perfect taste of sweet and salty. It's pretty cool drinking a hot cocoa of 11.000 year old water!
Arnarnesstrýtur is also full of animal life and our friends the cod and wolffishes great us during every dive and demand to be petted!
Click here to see info and pricing
---
Nesgjá – Litla Á – Goðafoss
If you like to dive, snorkel or just like water and nature, these tours could be just right for you.
On the Mid Atlantic Ridge between the North American plate and the Eurasian plate, close to the north Atlantic sea, is Nesgjá. The water in Nesgjá is crystal clear and the visibility in the water is usually around 100 m. After a dive or snorkel through Nesgjá we go into the ultra blue lagoon Lón.
Only 10 min drive from Nesgjá is a river called Litla Á and it has the temperature of 17°C. It's more incredible that you could ever imagine and it's only 2 m deep.On the way back home we stop at the beautiful waterfall Goðafoss.
Click here to see info and pricing
---
Mývatn – warm cracks and caves
Lake Mývatn has gorgeous scenery all around! It has incredible sites with warm water and some special algae growing in the water. We'll drive around tehe lake and visit Leirhnúkar and Námaskarð. After seeing bubbling mud in Námaskarð we'll visit the cave in Grjótagjá with the water temperature around 46°c before going into the cave in Stórugjá. There we'll swim in 28°C water and even dive between the chambers in the cave. We'll also visit the warm crack Vogagjá with the water temperature around 30°C and after Vogagjá we drive to Mývatn nature baths where we can relax before going back to Akureyri.
Click here to see info and pricing
---
Diving and Snorkeling with the Puffins
Grímsey
Grímsey is a small and beautiful islands crossed by the arctic circle, where a few fishermen and their families along with millions of sea birds live! When diving around Grímsey you can dive "under" the arctic circle with the Puffins and the Guillemot birds. In the blue, clear and cold arctic ocean around Grímsey you do not only dive with the birds but also Cod, Plaice and huge steams of Pollock, hiding and swimming through the kelp forest that covers the bottom. Both big and small whales are usually not far away and it is a true paradise of nature and sea!
Click here to see info and pricing
---
A hidden pearl in the middle of the harbour
In the harbour, almost in the center of Akureyri, is an old 60 m long and 11 m wide ship, called Standard. Standard was built 1874 in the USA and sank in the beginning of the WWI but at the time it was owned by a German fishing company. Usually there is a lot of fish around Standard and during one dive we spotted eleven species of fish.
Click here to see info and pricing
---
Every year, thousands tons of cod come to spawn at shallow depth, 4-20 m, in Þistilfjörður in northern Iceland. Since 1996 Erlendur Bogason the owner of Strýtan Divecenter has spent most of April in Þistilfjörður diving and researching the cod. Erlendur has been studying cod and his behavior in the nature along with how the cod acts and behaves around fishing gear. In this dive tour we will focus on the Cod but we will also dive at Strýtan, Arnarnesstryýtan, Nesgjá and Litla Á.