Grímsey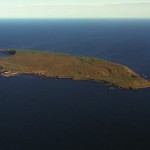 Grímsey it is the northermost island off the coast of Iceland, 41 km from the mainland. It has an area of 5,3 km2 and reaches a height of 105 m. It is composed of basalt, except for some sandstone in the northwestern part. All but the southern shoreline consists of steep cliffs, with basalt in many parts. There is a rich vegetation cover of marshland, grass and moss.
Although it lies on the Arctic Circle, the island enjoys a mild climate, and supports enormously large bird colonies. About 155 people live in Grimsey, the main occupations are fishing and fish processing, with agriculture and collecting seabirds eggs as sidelines.
Grimsey is a separate local government area, and there was a resident vicar until the middle of this century. The church, which was built from driftwood in 1867 and renovated in 1956, is now under the parish of Akureyri. There is also a community center and school on the island, and co-operative shop. Regular air and ferry services link Grimsey to Akureyri.
According to folk tradition, the island is named after Vestfjarda-Grimur Sigurdsson. Heimskringla (old sagas) relates how King Ólafur of Norway asked for the island as a gift, but the Icelanders rejected the idea, since the king would have an army stationed there. In the late 18th century it seemed that the community was fated to die out, since most of the men expired by pneumonia or accidents at sea. In the late 19th century the people of Grímsey were known for their prowess in chess. An American, Willard Fiske, presented them with chess sets, a library and a sum of money.
The island is a popular tourist destination ,and certificates are issued for crossing the Arctic Circle.